Can you believe that Christmas is now over and done with and that the New Year is just around the corner?
If you've been following our Christmas plan, then you'd probably managed to pick up a few presents for yourself (hopefully, you managed to snag some great deals on Black Friday).
In a hurry?
If not, it's not too late. Valentine's Day is now just round the corner, which is why we're publishing this post: to give you some amazing self love gift ideas for Valentine's Day you should give yourself.
Because really, the gift of self care is a gift we all deserve.
Yes, I know, it's only January but trust me, this month is going to fly by and before you know it, it's February and all the shops are riddled with roses.
Might as well get a head start and get some treat yourself presents for Valentine's Day – before your options dwindle down to excessively cheesy romantic items that you're supposed to give a significant other.
Side Note: Why is it so difficult to get a Valentine's Day gift to give myself? Do I need to have a significant other to enjoy the day? I can't celebrate the day of love with number one and get myself all loved up?
And yes, if you're not even sure of the merits of buying presents for yourself, if you're actually asking, "should I give myself a gift on Valentine's Day" or "is it good to treat yourself", the short answer is: Of course!
If you want the long answer, then please read How Do You Love Yourself, Let Me Count The Ways: The Ultimate Guide to Self-Love.
Anyway, the point is, if you're looking to give yourself a present (or maybe you know someone who deserves more me-time), then you'll find this gift guide to be practically essential. 
This list contains the best self love gift ideas (or self care gifts, whichever term you prefer) that no one ever thinks to give – perfect for people who are stressed or who've been neglecting themselves for far too long (so, all of us?). 
Even better, the self-love gift ideas that we've included here do not usually come up in your usual pamper hampers or self-care box.
So, enjoy the post and the products. They're just amazing! 🙂
Side Note: If you want examples of self care package gift ideas (you know, those self love gift ideas that you can include in a self care box or a pamper hamper), then go straight to Self Love Gift Ideas.
Another Side Note: If you're looking for more Christmas gift guides, check out Family Budgeting.
Why should you give self care gifts
But first, why should you give self care gifts?
After all, there are so many possible options (tech, experience, money, etc).
Aside from the snarky answer along the lines of why shouldn't you get treat yourself presents for Valentine's Day, the answer really is simple: very few of us actually focus on ourselves. 
We don't normally spend time just nurturing and nourishing ourselves. We're so busy trying to meet all of our responsibilities that many of us are running out of steam.
Stress tends to overwhelm us and the end result is a life that we're desperate to change.
So, what to gift someone who is stressed? Actually, what do you gift yourself if you're stressed out of your mind?
"What to give myself for Valentine's Day," should be a question that we ask before we buy something for our partners – no matter how much we love them.
We can only give what we have and you deserve being treated as well as you treat your beloved.
I recommend a self care gift package – also called a pamper hamper, a self care box, a self care gift basket, a self care kit. These are simply different names for the same thing – something that will help us engage in self care activities. 
Obviously, loving ourselves is so much more than the self-care activities that we do. But, these actions really can help us finally put ourselves front and centre especially if it's never been a priority before.
And what better way to encourage this than to actually give gifts that will help people (yourself included – because if you've *finally* given yourself a Christmas gift, don't you think it's time to give yourself a Valentine's gift?) fall in love with themselves – or do activities that will help them fall in love with themselves?
This is where a self-care gift comes in. And it comes in many forms. 
What do you put in a self care gift?
You can of course, just give one single present or you can create a package containing everything you (or someone else) will ever need to really pamper yourself.
It can be a pamper hamper, a gift basket or a self care box, whichever one you choose would obviously depend on the needs you are trying to meet.
You can focus on mental wellness or physical health.
You can include all sorts of things that you wouldn't normally think to give. I love getting self care books, for example, but they don't normally show up in pamper hampers. 🙂
The world (the hamper?) is your oyster.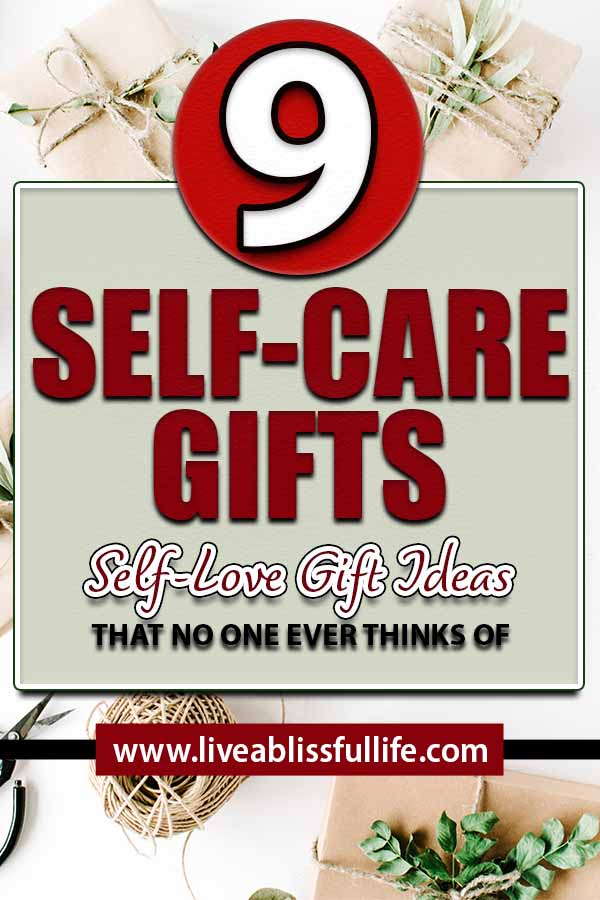 What is a self care box?
At its core, a self-care box is simply a box where you keep everything you'll ever need to practice self-care. 
Some people have one that contains things they use regularly, even daily.
Others just keep a self care box for those extra bad days.
You're at choice as to what you put in it although, of course, if you're giving it as a present, then I recommend something with a little cohesion.
For example, you can give a mental wellness self care box. Or a self care box for spa-at-home days.
What are self care items?
Self-care items simply refer to those things that can help you nurture yourself.
This'll naturally be quite subjective because what is essential to one person may not at all be valuable to another.
For example, meditation is a huge part of my self care routine. So is the time I spend just curled up in bed reading a nice romance novel.
For other people, meditation is boring as heck and reading just slightly worse.
And that's totally fine. 
We're all different people so naturally we'll have different inclinations. As a friend of mine once said, different horses for different courses.
Self love gift ideas
If you're looking for examples of self care package gift ideas (you know, those self love gift ideas that you can include in a self care box or a pamper hamper), this section will give you a rundown of our self love must-haves.
These are the treat yourself gifts on Valentine's Day that, I believe, would be excellent gifts to buy for yourself – most often, because no one else thinks to give them.
Enjoy!
Side Note: You don't need to spend a fortune in order to give kick-ass gifts. Sometimes, the best things in life really are free.
Time
Probably the best of all self care gifts for yourself on Valentine's Day, time tops our list.
In fact, I truly believe that this is the most important self-care gift of all time (no pun intended).
Unlike every other thing in our list, time is not a renewable resource. You can never go back and recapture the past, neither can you hurry it along to get to the future.
Also, if you want to do some self care activities, you kinda need to set aside some time for it.
Trust me, it's hard to enjoy a leisurely soak in the bath when you're also having to keep one ear open for the slightest noise from your baby's room, knowing that you'll have to jump out the bath when baby starts crying because no one else can respond.
It's not relaxing.
At all.
So, how do you give the gift of time?
With creativity, of course! 
Since you can't actually give time itself, you'll have to give a present that results in freeing up whatever your time is currently already tied up with.
And there are are a few things you can buy to treat yourself that often result in more time (I'm not going into more detail about the illusion of more time here as it's simply out of the scope of this post but there's an idea for a future one).
So, if you're looking for the best gift for self you could possibly give or receive, this is it.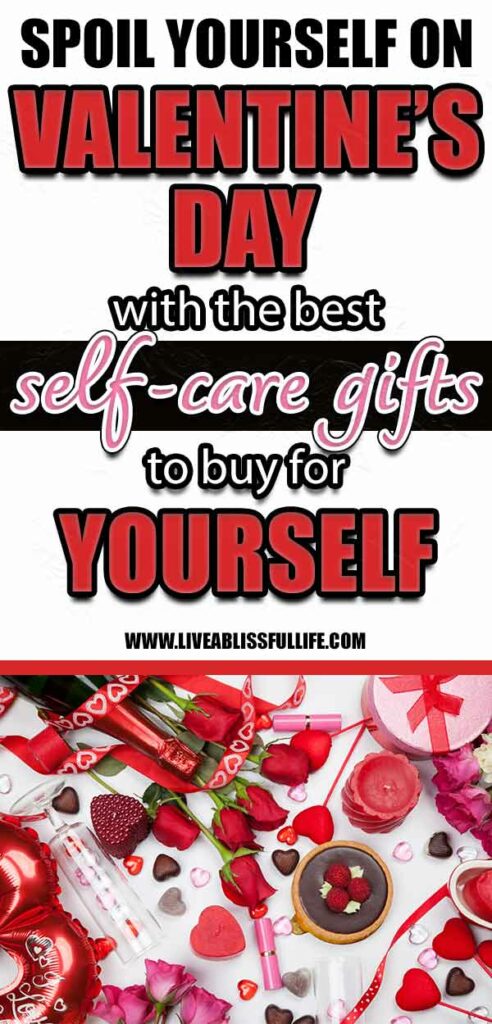 Cleaner
One of the best ways to give time as a present is to hire a cleaner.
Unless you (or the recipient) loves cleaning, tidying or decluttering – and that is your idea of self-love, then employing a cleaner to come and help you a few hours a week will free up time that you'd probably be better off spending on something you enjoy.
I remember when my husband hired a cleaner to deep clean our home for 3 hours. It was my birthday present and I absolutely loved it.
The cleaner freed up 3 hours of my time and I spent most of it playing with my son, lounging in the bath and catching up on my writing.
Bliss!
Actually, I used to love cleaning but ever since I thought it would be a smart thing to do to become a wife, a mother and an online entrepreneur all at the same time, spending time cleaning or decluttering has lost its appeal.
Now, a cleaner tops my personal list of best things to buy yourself (followed closely by a voucher for a really good laundry and ironing service) – not only for self love but also as a business investment.
At this point, my time is better spent working on my business and making it grow.
Anyway, there is no one cleaning company I can recommend as you really need to look for someone local (obvs!). In our case, we just Googled cleaning companies and interviewed a few people.
It really is as simple as that.
Childcare
Another excellent way you can give time as a gift is by setting up childcare.
If you're the recipient, then you'll have to set up your own babysitter, childminder, daycare or nursery. The first would be best if you really only need childcare temporarily. The last 3 are the options you have if you're looking for something more permanent.
When you're giving someone else a present, then it could be easier because you can offer your own time to babysit. That way, you can free up the recipient's time so they can do their own self care routine.
You can either just make your own voucher on an online site like Canva or you can buy a gift voucher that you can personalise.
Food
You can also give food and that way save the intended recipient's time. 
Some people love to cook so obviously, this gift isn't really for them.
But, if the thought of making your own food makes you feel like a slave and you're absolutely certain that there are other things you'd rather do, then why not?
Get a voucher from your favourite local restaurant or an online food delivery company and use your time doing something that makes your heart sing.
Or, if you're getting this present sorted for someone you love who doesn't like to cook (but you do), then you can whip up something special in your kitchen, put it in a nice easy-to-heat but presentable container (I love Pyrex), include pertinent information (date, ingredients, heating instruction), top with a ribbon et voilà!
A time-saving present that anyone would love.
Silence
To fall in love with ourselves, to focus on what's truly important, to live a life of bliss, silence is essential.
In fact, according to Dr. Bruce Davis, "In silence we can hear our own thoughts. Perhaps more beautiful we can hear the world without the crowded stream of our thoughts.
Visiting silence can be an adventure, a pilgrimage, a life changing journey into peace and quiet. We can be quite busy and loud in our attempts to make a more peaceful world.
Maybe the peace we seek is not so complicated. Maybe the quiet we want can begin with turning down the noise we routinely live with. Real peace and quiet can be no further then spending some time in silence."
How then, can we give the gift of silence.
If you live alone, then this is easy. Simply turn off all your gadgets, pop on a pair of noise-cancelling headphones (the Paww WaveSound is good), close your eyes and just breathe.
But what if you're not living alone? What if you have a full house – complete with a crying baby? This is where asking for help comes in so you can give yourself the gift of time.
But what if you're giving this present to someone else?
Then that's easy. You can give your time as a gift so the recipient can have their time to enjoy the silence.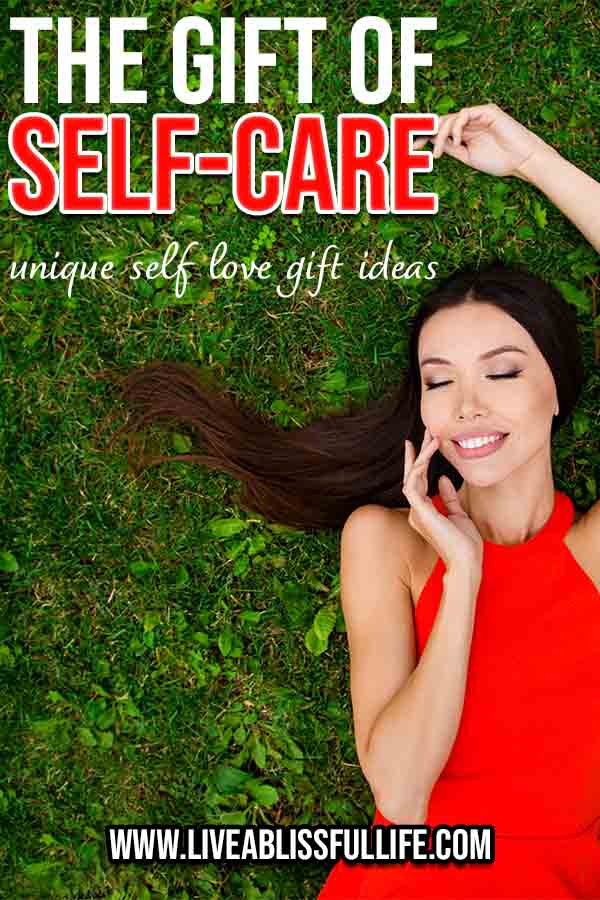 Gadgets
Whilst I said (and will keep saying) that you don't need to spend money in order to enjoy or give a self care present, I'd be the first to admit that it's nice to give or receive a beautifully wrapped gift basket or hamper that contains items designed to nourish yourself.
I love giving gifts like that.
I especially love receiving gifts like that.
So, if you're looking for some items that you can include in your pamper hamper or just gifts for yourself that few people would ever think to give, this list of gadgets should be on top of your list.
SleepPhones
Meditation is a big part of any self-care routine but when you're a busy mom with no time to spare, what can you do?
Sometimes, all you really have is that time when you're sleeping, just about to fall asleep or a few minutes after waking.
Is that enough?
Yes!
In fact, that's exactly what I do at night once everyone is sleeping.
Unfortunately, most headphones are just not designed to be worn in bed. I tried those headphones that came with my smartphone but I'd inevitably wake up with the cord wrapped several times around my neck.
Not ideal!
I then decided to go for wireless headphones but why do they have these really bright blinking blue lights that keep you up at night?
It's not actually conducive to a restful night's sleep – especially if you're beside someone who's slightly photophobic. Also, if you wake up with the earbuds still in, your ears are most likely going to be really sore (my personal experience anyway).
One night, I got fed up with this discomfort so I ended up trawling online shops to see if someone – anyone! – had invented headphones that are designed for sleeping.
Guess what?
Someone did!
Enter SleepPhones, the world's most comfortable headphones for sleeping. 
Unlike many cord-free headphones, the SleepPhones are designed to sit over the ear, which means they are unbelievably comfortable even for side sleepers (like me!).
The headband is soft – luxuriously so – and is made of either fleece or breeze (specific to RunPhones). Inside the headband are thin, padded removable speakers that can play any type of music, audiobooks, meditation, white noise, or talk radio.
SleepPhones are lightweight, washable, hypoallergenic, and RoHS/CE compliant with the highest standards for electronics and batteries.
Best of all, they come with a One-Year Limited Warranty.
If you're looking for only one self care gift item that you can buy, this is the one to give – hands down!
Side Note: SleepPhones and RunPhones are created by the same company. As you can probably guess, the SleepPhones are for nighttime use and the RunPhones are more appropriate for when you're working out due to the type of fabric. 
Q-Link
Another interesting and unique gift idea you should consider is the Q-Link.
Side Note: You might think this is too woo-woo but remember that just because we don't understand something doesn't mean it doesn't work.
Jim Rohn maintains that that is what a miracle is – something we don't understand. And I agree.
For example, gravity was something we couldn't explain prior to Isaac Newton's Law of Universal Gravitation. That doesn't mean it isn't true.
It was as true before he published his law as it was after.
So, yes, I do recommend would be one of the many Q-Link products because it gives you "more vitality, creativity, resilience, focus, awareness, joy, higher productivity, cognitive function, dynamic potential, satisfaction, consciousness, more in "sync" at work and play, getting "in the zone" when it counts and being more personally integrated and in tune with others."
Subscriptions
If you want to go all out with your self care present, then you can take out a subscription from one of the following companies.
They're not too expensive but are extremely useful.
MUTU System
The MUTU System is essentially a body positive medically recommended online exercise programme for all mothers to help us gain confidence in how our new bodies look, work and feel.
Launched in 2009, MUTU helps mothers get healthier, fitter and stronger by improving pelvic and abdominal symptoms from the annoying but relatively harmless 'baby belly' to the more sinister diastasis recti.
Why am I recommending an exercise programme designed for moms in this self care wellness gift guide?
Because for the most part, moms (who tend to need self care the most) keep neglecting themselves. 
I know because I'm a mom too and I actually used to work out quite a lot – 3 hours a day, 7 days a week – before I had a child.
Post-birth, the only form of exercise I got was when I walked my child to nursery. Before he went to nursery, my only workout was when I was carrying him.
Thankfully, I stumbled upon the MUTU system and things are now changing.
If you're not a mother, then that's fine. You can get (or give) a subscription to your local gym or even another non-mom-specific online exercise platform like BeachBody (which is fab, just FYI!).
Why?
Because exercise is a crucial part of self care: "it increases cardiovascular activity, burns extra calories, but most importantly, it releases endorphins in the brain, which have a role in reducing stress and managing depression, as well as decreases the stress hormones in the body, like cortisol."
The Fabulous App
The Fabulous is a science-based app that is designed to make acquiring habits a lot easier than it normally is.
We all know how it goes.
Most of the time, we start off with the best of intentions. 
For example, we decide that we're going to work out for 15 minutes every morning as soon as we wake up. If you've never done it before, you'll most likely trip up some days and if you don't act immediately, you'll most likely end up not achieving this goal at all.
The Fabulous basically helps you sum up tiny habits into profound long-term changes by breaking down your big goals into tiny actions that you can do everyday.
You can sign up for different challenges and then set it up so you get notified of what you need to do at certain times.
I found that it works quite well – as long as you actually do what the prompts are asking you to do.
If you're not sure about the app (you will have to download the app on your phone), then register for a free one-month trial and then take it from there. Cancel the subscription if it's not helping. If it is, I truly believe that $12.99 per month (less if you pay upfront for the year) is worth it.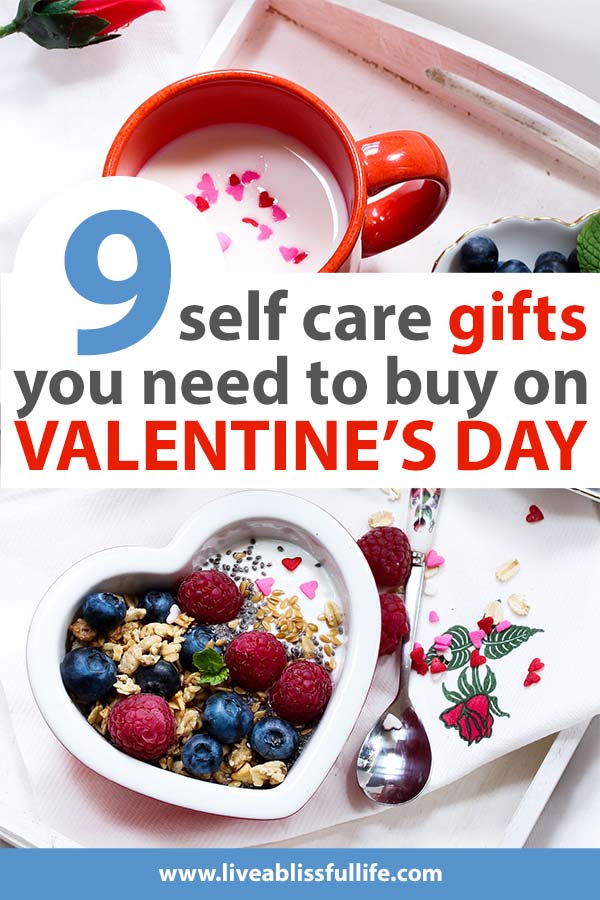 Amazon Music Unlimited
Music, writes music therapist Amanda Williams, is part of being human. "We respond to music on a deep and fundamental level – even below our level of consciousness.  It can affect our bodies and brains in profound ways without us needing to do much more than sit and listen."
Science backs her up.
According to The National Center for Biotechnology Information (NCBI), music can have a profound effect on our hormones, our emotions and our heart and breathing rates. It can even have beneficial effects on anxiety and depression.
This is why more and more medical professionals are considering music therapy as a valuable tool when it comes to helping people with mental health issues. 
And that's why I believe that creating certain playlists that are guaranteed to lift your spirits could be particularly helpful.
Hence, my recommendation for an Amazon Music subscription.
I love Amazon Music because it's diverse, easy to use and not at all expensive. 
You can easily create different playlists for different moods.
Final thoughts
To recap, self love is incredibly important. In fact, it's essential to living a blissful life.
That's why you should make sure that you take the time to focus on and nourish yourself.
One of the best ways to accomplish that is to give gifts that you can add to a self-care routine.
You don't need to spend a fortune on these presents. In fact, some of them are free (financially speaking, anyway).
Time, for example, is a wonderful gift and you can either pay someone to ease your own days or give your time so that others can take a breather.
It's the same with silence. Everyone needs it but not everyone gets it.
If you were hoping to give an actual present that you can wrap in a beautiful bow, then I've listed some items that I personally think are crucial to everyone's self-care routine.
I hope you like them and if you think I've missed something, then please, do write it down in the comments section below.