Is it okay to tell a child to shut up? Can you say shut up to a child?
I don't know about you but when someone tells me to shut up, I see red. Absolutely see red.
It's one of those phrases that my husband knows not to use unless he really wants a hair-raising argument.
Do you feel the same?
How do you react when someone says, "Just shut up and listen!"?
Unless it's said with a great deal of love and humour (and yes, that is possible) or whispered frantically by one friend to another (you know, when you're both about to get in trouble but your friend just won't quit it), it's like throwing the gauntlet in front of an enemy or waving a red flag in front of a bull.
You just don't do it.
So, it makes me sad when I hear an angry parent tell a young child to just shut up. It just feels wrong somehow that someone who occupies such a position of authority should use those words on someone so vulnerable and dependent.
In fact, I don't just feel sad. I get goosebumps. My heart starts racing. And I need to start doing deep breathing exercises to stop myself from barging in and telling the parent that actually, s/he should shut up.
Do you know the feeling?
It's a trigger for me.
What You'll Learn
FYI: This post most likely contains affiliate links. If you want to read our legal policies, click here.
Why parents say "Shut Up!"
But my child never stops talking and I'm exhausted!
Don't get me wrong, I get it.
Heck, parenting is hard work – especially when you're so stressed and exhausted and you really just want some peace and quiet. Some cooperation without push back. Someone to flippin' listen and do as you say without asking, "Why?" or saying, "No.".
In fact, when parents say "shut up", it's almost always because they want to exert control over the conversation. Sometimes they want their teens to stop the cheeky backtalk, sometimes it's to end the whining, and sometimes they're just tired of listening to their child (especially if your child is going through the "why" phase).
When you lose your cool like this, when your emotions get the best of you and you start yelling or being disrespectful (yes, your children have a right to be respected just like you), take it as a sign that you need to start taking care of yourself.
Huh?
Serious advice here.
Have you ever noticed that it's when you're terribly exhausted that your children start grating on your nerves?
You know that place?
You haven't slept, nearly got fired at work, had a major argument with your spouse, chronically worried about the bills that keep bl**dy coming with no end in sight. You're so exhausted that you either just want some time to yourself (which you don't get because you're a parent) or you're spoiling for a fight.
Every little thing they do makes you want to snap at them to just shut up, stay in one corner and leave you in peace whilst you tear your hair out (No? It's just me? Oh dear…).
In fact, you start telling yourself, "Just say 'no' one more time and you'll see." You're practically daring them to say something.
Then they do.
And you roar, "Shut up!"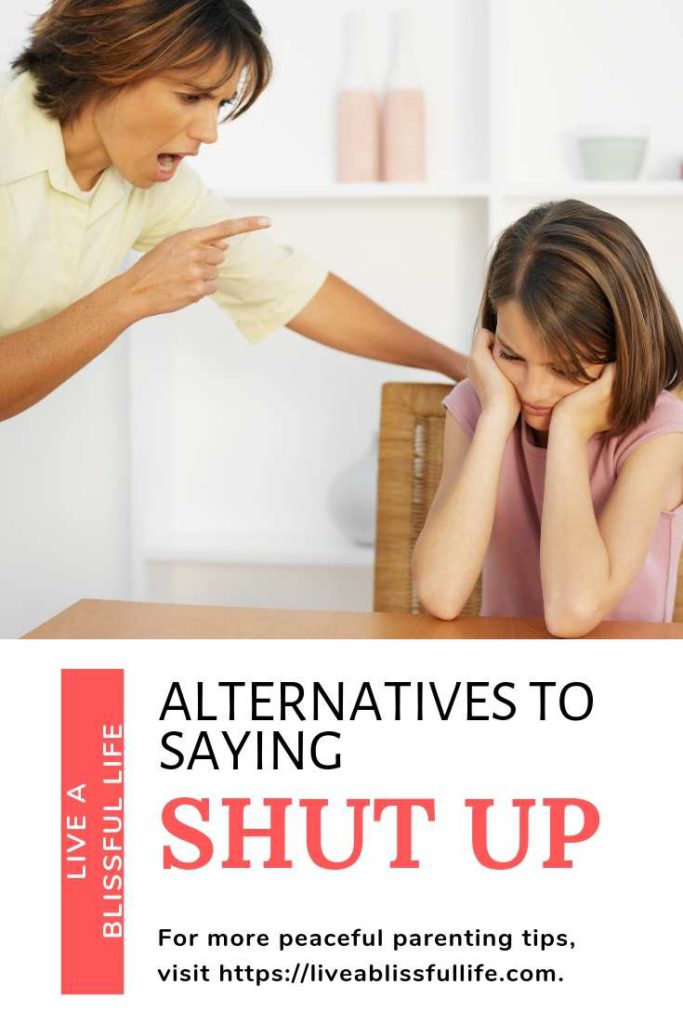 How'd that feel?
Pretty cathartic, wasn't it?
It's like all the negative emotions pressing against you went from your heart and straight out your mouth.
At least, until the guilt kicks in and you cringe as you wonder if you've scarred your child for life because you know instinctively, that you really shouldn't have done that.
If this is a one-off thing, then your child would most likely go his merry way.
But if it's an ongoing thing, what could happen?
Why you shouldn't say "Shut Up!"
Aside from the fact that saying "shut up" is very disrespectful and demeaning, try and keep the following reasons in mind:
Model the Golden Rule
I don't know how you do it but we teach our child to treat others as he would like to be treated by modelling the behaviour we value.
We want him to mind his manners so we thank him. And when he thanks us, we say, "You're welcome.". We say please when we want something from him. And like all children, he imitates that quite well and now – at the tender age of 3 – says them automatically with very little prompting.
When we tell our children to shut up, we are effectively modelling not just the words but the behaviour. We're making it okay for them to tell you and other people to shut up.
Would you like your children to tell you to shut up? Would you like them to think it's okay if another adult – a teacher or a nursery keyworker, for example – tells them to shut up?
No?
Probably best not to expose them to it then.
Also, imagine if you get called into school or nursery because your child told another child to shut up. How would you feel? I know I'd be mortified. What about you?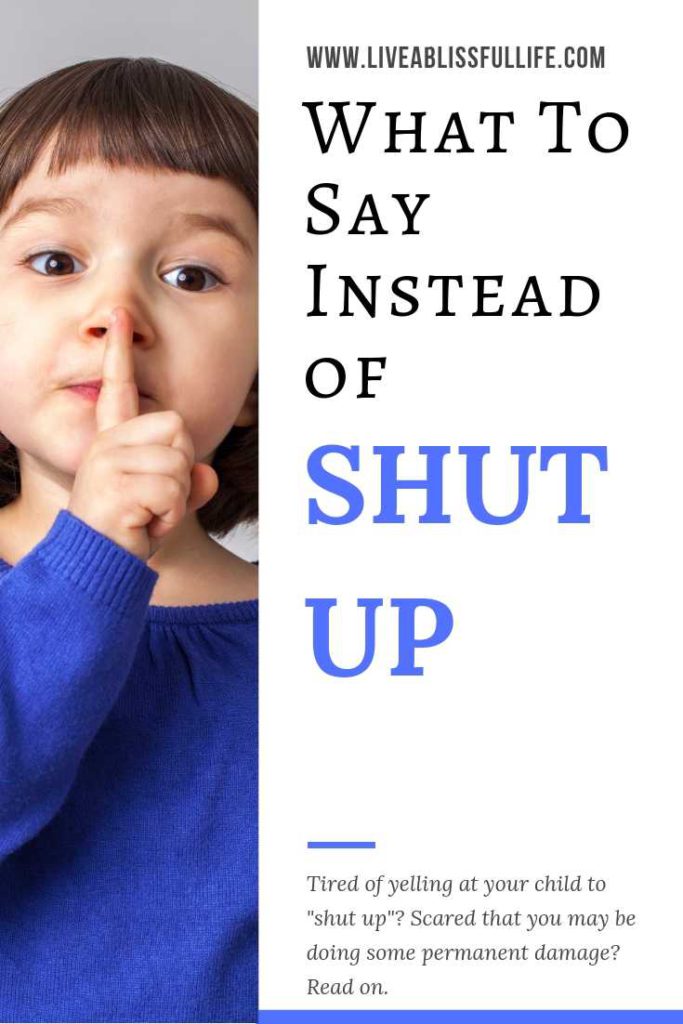 Model Restraint
When you give in to the temptation to yell "shut up," you're showing your children that they can push your buttons. And not just that, but you're showing them exactly which buttons to push and how to do it.
You lose your authority as a parent.
The antidote is to model restraint, self-control and the ability to step back from emotional outbursts and wait until you're calm. And you can show this by not quickly yelling "shut up".
Restraint is also one of the most important life skills your children will learn. As they grow older, they will face all sorts of situations with a variety of people and you want them to learn, for example, that telling their boss to "shut up" during a board meeting is not in their best interest.
Model creativity, communication and problem-solving
Saying shut up to a child doesn't solve the problem you're having. Why do you want them to shut up? And what do you want them to do instead?
If you have a young child and you ask them not to do something, guess what they do? They'll do exactly what you just told them not to do.
Why?
In Joyful Toddlers & Preschoolers, Faith Collins wrote, "We all think with imagery, and children even more than adults. If I say, "Don't run in the street," what's the image that comes into your head? Now, how about if I say, "Please walk straight along the sidewalk." The word "don't" is a modifier that is very weak compared to the strong image created by the rest of the phrase. This is why, if you say "Don't jump in the puddle," the average two-year-old will go directly to the puddle and jump in it, and be slightly puzzled as to why you're annoyed."
Sometimes you need to be creative and explain yourself a bit so your child understands exactly what you need and how you feel. Sometimes you just need to tell your child that need some calm down time.
Also, you're playing the long game, remember? As your children grow up, you want them to know that you'll always be there should they need support, that they can still come to you and that when they do, you will listen – without bashing or shaming them.
[ipr]
What to say instead of "Shut Up!"
Model the behaviour you want to see. If you really want them to speak quietly, modulate your voice so you speak as softly as you can. And then say something like these before you hit the point of no return when it's just so much better to yell at your child:
1. Mam / Dad / I need/s some calm down time. Let's just cuddle just now.
2. Mam / Dad / I need/s some privacy. Why don't you go play with your car / doll / *favourite toy*?
3. Let's speak as softly as we can for now whilst I'm on the phone / *doing whatever needs to be done*.
4. Mam / Dad / I need/s you to be quiet. Shall we put Blippi on the telly *or if you have a no screen policy, take a favourite puzzle / book / toy out*?
5. *excuse yourself from the person talking on the phone* Mam / Dad / I is / am on the phone right now. Remember, what we talked about? When someone's on the phone, we stay quiet so they can hear.
What to do when you really need quiet
If you're reading at the alternatives above and thinking, "Yeah, right. What are the chances that any young child will listen to that?!", then I'll be the first to acknowledge that you have a valid point.
Obviously, if you have very young children who are barely verbal, this would hardly work immediately (though I still highly recommend saying them and talking to them about the importance of silence / quiet time even before they can fully grasp why).
This is so that it becomes second-nature to them.
BUT, what about when you're in the moment?
You need some peace and quiet and you need it now!
What can you do?
Set your child (and yourself) up to win.
If you need them to be quiet because you'll be balancing your chequebook, speaking to someone on the phone or otherwise doing something extremely important, schedule that in your diary and then ensure that they are busy.
1. If your toddlers are anything like mine, you'll benefit from putting their favourite food out and in front of them for easy access. Because, of course, toddlers get hungry as soon as you sit down to do some work.
2. You can set a timer. We use a kitchen timer with our preschooler and have done since he was 1 year old. He doesn't understand the concept of time (ex.: I need you to be quiet for 10 minutes and then we'll play your game) but when he sees the red bit getting smaller, he can see how long it will take before he can have my full attention again. It helps him wait because he can see how long he needs to wait for.
A timer will also benefit you as the parent because it helps you track your time properly, which in turn, helps you create more time – an even more important commodity now that you have children.
3. Unleash your secret weapon. We all know about that one thing our children absolutely adore but which we don't want them to have access to all the time. For some parents (like me), these are screens. My son has an Amazon Fire For Kids tablet that we let him use in those instances when we really need to focus on what needs to be done. So, when we have an appointment and he won't stop trying to get our attention, we excuse ourselves from the person we speak with and set up the tablet so he can play to his heart's content.
You know what this is for your child.
Use it and don't feel guilty. This is still infinitely better than eventually getting fed up and telling them to shut up.
[ipr]
Final Thoughts
I will be the first to admit that the alternatives to saying shut up don't work 100% (but then neither does saying "shut up").
They work best when you've built a strong enough connection with your child so that they don't defy you instead of cooperating with you. Dr. Laura Markham, author of Peaceful Parents, Happy Kids says that defiance is a relationship problem, not a discipline problem:
"Kids are defiant for a reason. Often, they feel controlled and pushed around, and they need some positive ways to feel powerful and capable in their lives. Because a defiant child is rejecting the parent as leader, at least at this moment, defiance also indicates that the child feels disconnected from the parent. Maybe the relationship needs some repair work, or maybe she's just very upset at the moment, and since she's in "fight or flight" we look like the enemy."
Have you experienced this kind of situation? How did you handle it? If you have any tips, we'd love to hear from you! Just comment below.