A close friend once asked me why I'm always smiling. She then ended in exaggerated shock: "You can't possibly be happy all the time!"
That really made me think. Am I happy all the time? Is it possible for anyone to always be happy? Or do I just know – intuitively – how to be a happy person?
In a hurry?
Well, I think that if you ask someone like the Dalai Lama, he'll come up with something simple and profound that would explain true happiness far better than I could (although we did make a passable attempt at defining bliss, don't you agree?).
Oh wait, someone did ask him!
And according to the Dalai Lama, "True happiness comes from having a sense of inner peace and contentment, which in turn must be achieved by cultivating altruism, love and compassion, and by eliminating anger, selfishness and greed."
Erm. Oh-kay.
So, full disclosure time: Whilst I'd love to think that I've eliminated selfishness and greed (or that at least I'm well on my way to getting there), I definitely have not eliminated anger. Like, at all.
I'm nowhere near it.
In fact, it's not even a goal. I sort of gave up on that around the time I was diagnosed with postnatal depression that manifested as…rage. Yep.
I wasn't in any fit state to tackle that particular pink (red?) elephant.
So Rage hangs around like a faithful shadow most days.
Although, in all fairness, he doesn't ask for as much attention as he used to so all my inner work must be…well, working.
That said, I am actively cultivating altruism, love and compassion although (and this is another full disclosure), I've not achieved the level of enlightenment that allows me to feel inner peace and contentment in the face of blatant discrimination and hypocrisy.
Yeah, those things send me (and my faithful shadow, Rage) into a tailspin.
So, if that's the case, how is it that I'm always smiling?
Okay. First, I'm not always smiling. That makes me sound like a Loony Tune character.
But you will usually find me smiling or laughing.
Why is that?
Lean closer and I'll tell you.
It's because *super dramatic stage-whisper* I've discovered a quick and easy way to be a happy person…and you only need 7 days to do it.
Want to know what that is? Keep reading! 🙂
Disclaimer: The information contained in this post in particular and in this blog, in general, is not intended to replace medical advice. If you have or believe that you have mental health conditions, then please see a medical professional.
Day 1: Know your purpose
It's the philosophical question of all time – the one that makes people uncomfortable whenever it's asked.
Why am I here? What is the meaning of life? What's the point of all this?
If you find yourself wandering through life with little to no direction, then it's time to stop and take a long look.
If like most people, you're dissatisfied with your life and want something better, then I have a question for you. Why haven't you done anything yet to improve your situation or find whatever you're looking for – maybe happiness, health or abundance?
Shall I take a stab at it?
Could it be that the reason you can't seem to move forward is that you don't actually know where you're going?
You don't know why you're here, what your life means, what the point of all this is.
Luckily, life has no purpose, save the one you give it.
That is both simple and profound and very true.
You are in charge of your own life so you get to choose what you want your life to be about. Another way of asking that question is, how would you like to be remembered by the people you leave behind?
Identify your life purpose or mission statement, create your own personal manifesto and then allow it to be your compass. I can guarantee you that you will be happy.
That's great, Jade. Now, how the heck am I supposed to know what my life purpose is? I'm so-and-so years old and I've always thought that no one knows the real answer to that question.
Luckily for us, success leaves clues.
To define your purpose, I highly recommend Jack Canfield's The Life Purpose Exercise as published in The Success Principles (2015, p. 27). I've listed the steps below along with examples from when I did the exercise (yes, that's my life purpose down there):
Step One: List two of your unique personal qualities (e.g.: single-minded determination and unshakable faith in the inherent goodness of life).

Step Two: List one or two ways you enjoy expressing those qualities when interacting with others (e.g.: to inspire and instil hope).

Step Three: Assume the world is perfect right now. What does it look and feel like? Write your answer as a statement, using the present tense and describing the ultimate, perfect condition of a perfect world – seen through your eyes and felt through your heart (e.g.: all dreams, no matter how big or small, are achievable).

Step Four: Combine steps one to three into a single statement: My purpose is to use my single-minded determination and unshakable faith in the inherent goodness of life to inspire others and instil hope that all dreams, no matter how big or small, are achievable.
Day 2: Know your values
Knowing what you value most is essential to becoming a happy person because your values are a very important part of you.
Like the North Star, they guide your behaviour, providing you with a personal code of conduct that you must honour if you want to be fulfilled (and ignore, if you wish to be miserable).
So, make a list of what you value most.
This can be anything you want – security, freedom, family, spiritual development, happiness, learning. Scott Jeffrey of CEOsage, recommends looking back at both your positive and negative experiences and draw your list of values from there.
Once you have that list, you can then check anything you do against it. Are the things you spend time doing just now aligned with the values you consider important?
If yes, then keep on doing what you've been doing.
But if not (and if you're not happy, then they probably aren't), then you may want to reconsider, revise or altogether stop spending so much of your time and therefore, your energy on it.
Want to get a headstart?
Day 3: Know your needs
On the third day, you can start closely examining exactly what you need and start asking yourself if you are actually meeting them.
Is this important?
If you wish to be a happy person, then yes. Unmet needs can keep you from living authentically and make you lose your way.
Take care of yourself. You are your first advocate and you show others how to treat you when you put yourself first.
In other words, you need to treat yourself the way you wish other people to treat you.
If you're like most people, you have a need to be acknowledged, to be valued but most of all, to be loved.
Showering yourself with the love you deserve is a key ingredient to being a happy person.
Showering yourself with the love you deserve is a key ingredient to being a happy person.
Click To Tweet
Day 4: Know your passions
Is it true that you know who you are and what you truly enjoy in life?
Not all the time, unfortunately.
As children, we keep getting told that we need to grow up or that the things we want, we cannot have. We can't study art or music because they don't pay. We can't become an astronaut because no one from our country ever gets to go to space. You can't do martial arts because you're a girl. You can't wear pink or like unicorns because you're a boy.
And on and on it goes – society suppressing the things that bring us joy.
So, I completely understand if you have no idea what your passion could be.
But guess what?
You can take The Passion Test to help you find out.
And once you know the answer to the question, "What is your passion?" the next step is to make sure that the things you do align with it.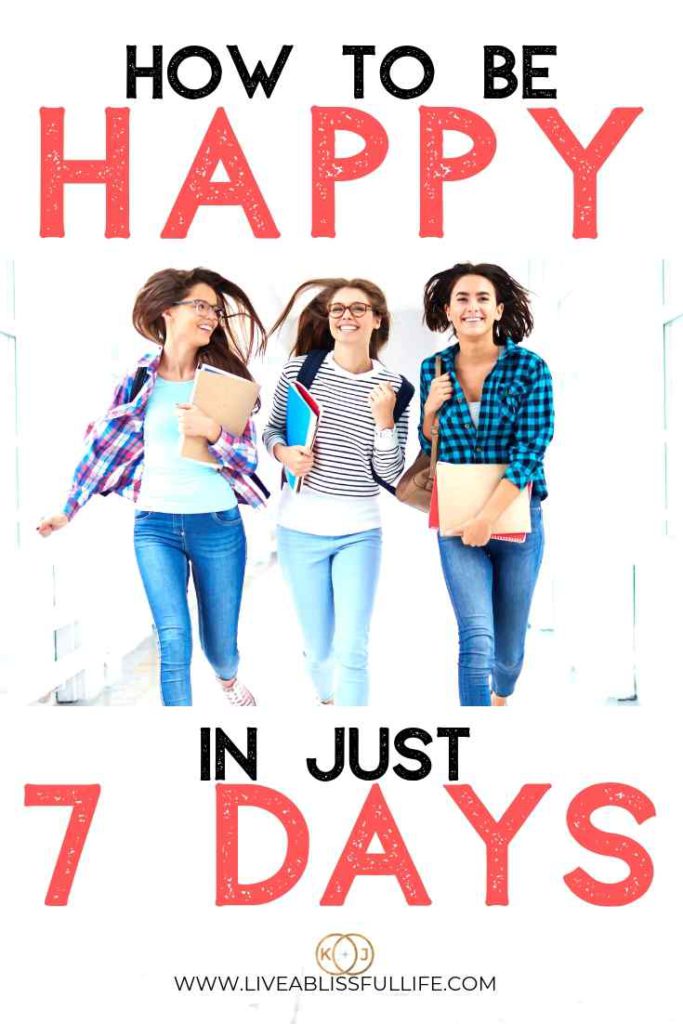 Day 5: Live from within
When you start discovering the things that are truly important to you – your purpose, your values, your needs, your passions, your love for yourself – you will naturally feel a lightening within.
Spiritualists keep saying that what is going on in your outside world is a reflection of your inner world.
In other words, if what you see happening in your life is not what you want, then go deep within and find out why.
Increase your awareness of your inner wisdom by regularly reflecting in silence.
Start meditating if you haven't already.
Take the time to go out and commune with nature – even if it's just a wee wander at the local park.
Breathe deeply to quiet your distracted mind.
Feel your feelings, accept that all of them are valid – no matter how negative they seem – and then let them go.
Day 6: Honour your strengths and embrace your weakness
In the book, Be Excellent At Anything, the authors take the time to highlight the importance of both honouring your strength and embracing your weakness.
We have a negativity bias and tend to look at all the things that we find are terribly wrong about us.
Maybe we think we're not smart enough, fast enough, patient enough, kind enough, wealthy enough, connected enough to be happy. And we worry about all these.
For example, I definitely know that I could be more forgiving and more patient with myself and others.
In response, almost every self-help expert end up encouraging us to just focus on our strengths – forgetting somehow, that strengths and weaknesses are actually just two sides of the same coin.
After all, even our strengths can become a weakness if we don't use them correctly. The philosopher Gregory Bateson was once quoted as saying that, "there is always an optimal value beyond which anything is toxic, no matter what: oxygen, sleep, psychotherapy, philosophy."
Antakolouthia, the Stoics called it – the mutual entailment of virtues. In other words, no virtue is limitless – each has a threshold beyond which it crosses from strength and transforms into weakness.
Struggling with that explanation?
I'll let the book give you some examples: "Honesty in the absence of compassion becomes cruelty. Tenacity unmediated by flexibility congeals into rigidity. Confidence untempered by humility is arrogance. Courage without prudence is recklessness. Because all virtues are connected to others, any strengths overused ultimately becomes a liability."
So on day 6, I invite you to list your strengths and then below them describe how you act when you over-rely on them. What do you do, for example, when you're too self-reliant, too focussed on your job or too determined to win?
If you get stuck, ask those closest to you to help identify these. Or you can watch the video above and follow along.
Once you have this list, you might want to put it somewhere you can see it to remind yourself that you need to embrace both negative and positive aspects of yourself in order to be happy with yourself.
Day 7: Serve others
When you live authentically, when you are true to who you are, when you live your purpose, you might find yourself overflowing with so much happiness that you want to share all of it with the people around you.
You can do this in a number of ways, all of which are based on either volunteering your time or your money.
Go to a local charity and volunteer your time once or twice a week.
Or you can choose a cause you believe in and donate some money to help.
Do what feels right to you.
It doesn't matter what it is exactly. All that matters is that you do something selfless – for someone who can't return the favour – and that you do it from the heart.
Final Tips
This 7-step formula is what I recommend to anyone who wants to know how to be a happy person.
You can obviously adapt it to your own situation – add a couple of steps here and there – but in the end, these are all you really need to do.
They're simple enough but are they easy? Not always.
Actually, they are easy to do. How quick and easy is it to write something down on paper? But living them is something else entirely.
To live according to your purpose, your values, your passion – that's not easy.
To love yourself completely that you can embrace your strengths and your weaknesses – that's not easy.
To share yourself with the world as you move authentically through it – that's not easy.
But then life isn't always easy is it? It's both exhilarating and terrifying – like going on a rollercoaster ride.
As the rollercoaster gains momentum, you find yourself clinging for dear life. Sometimes you're screaming. Sometimes you're laughing. And even if you're terrified to your soul, you can't get off until the ride is over.
But is it worth it?
Oh, yes!
What do you think? Are there any steps we haven't covered? Drop them in the comments below.