How much traffic does a website need to make money?
If you've just started your blog with an eye towards making money off it and you've got it properly set up for monetisation, your next question could very well be: as a newbie, how much traffic do I need to make money?
Keep reading as we give you the information you need to make sure that your blog will serve its money-making purpose.
Enjoy!
In a hurry?
Side Note: If you're curious about making money online via a blog-style website or you just want to try it on for size and see if it fits, check out our post on how to launch a website completely free!
How much website traffic to make money
Now, I'm going to give you an answer that is completely true but probably doesn't provide you with the answer you're actually looking for: it depends.
You can definitely earn money with traffic but the amount of traffic you need depends on a number of things.
It depends on the results you're looking for, the budget you have, your niche, on how often you post, what you post, how often you market and promote your blog and where exactly you promote your blog.
If you're like most newbies (in other words, no previous blogging experience, cautious, don't want to spend money unnecessarily, working a full-time job and slightly strapped for cash), then you won't immediately have the time, the know-how or the budget required to make an almost-overnight success of your blog.
Unless you get lucky and have a post or two gets viral somewhere, you probably will have to fight tooth and nail to get that traffic.
Sorry, we can't give you any overnight formula for success here.
Online business is still a business and if you want to make it work, if you really want it to be profitable and make you money, you need to manage your expectations and treat it with the respect it deserves.
The first and arguably, the only thing that you need in order for your blog to make money is to drive traffic to your website. The more the better.
But wait, what exactly do we mean with "traffic"?
Traffic
Traffic, or the number of web users (AKA people) who visit a website, is considered a coveted prize of all online entrepreneurs.
As they say, the more eyes on your site, the better.
Why?
Simple, the more people who go to your site, the higher your chances of making money – whether you're in e-commerce or affiliate marketing.
But how do you know that you're getting enough traffic?
I read somewhere that for some bloggers, 10,000 pageviews (PVs) seem to be an important target. I asked around but nobody could give a concrete answer as to why that is so I'll take my best guess.
One of the best ways to earn money passively is through ads and when you hit 10k PVs you qualify for ad networks that pay more than Google AdSense.
Now, ads do hurt websites in some way but depending on a number of factors (detailed quite thoroughly in that link, so you'll want to go check it out), it doesn't have to have a massive negative impact.
Suffice it to say that if you're a blogger intent on monetising your blog, you'll want to make it a goal to drive enough traffic to your blog to qualify for a premium ad network.
In other words, not Google AdSense (although depending on your network, you could run them alongside each other).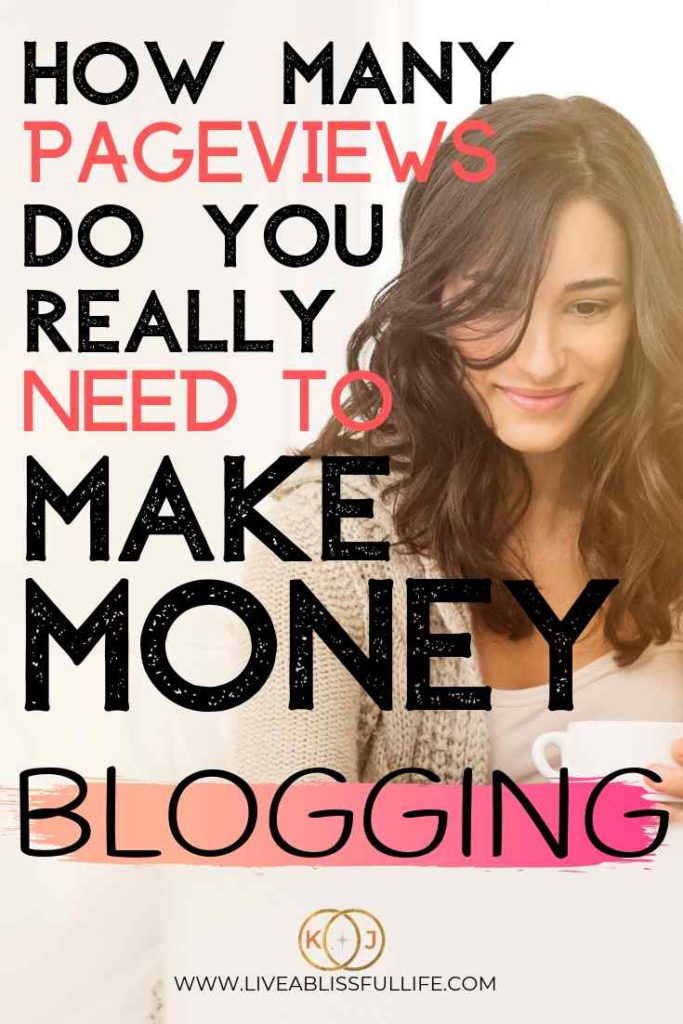 I don't have any experience with them but for the record, Ezoic has got a 10K PVs per month threshold, Mediavine has 25K page sessions (so about 30K-37K PVs) whilst AdThrive has 100K PVs.
Whaaattt???
10,000 PVs?
30,000 PVs?
100,000 PVs?
I'm just a new blog. How the heck do I get that much traffic? I'm barely scraping by with 10 PVs a day!
Did that terrify you?
Sorry. But that should really emphasise to you that this is a business you're creating, not a get-rich-quick-scheme.
Have patience.
Do it right.
And soon you'll be chuckling at the memories of you agonising over your 10PVs a day as you look at what you've achieved so far.
The "it-depends" factors
As we mentioned before, there are a lot of things to consider when answering the question, "How Much Traffic Do You Need To Make Money?".
The answers you give will determine how much income you can make from the traffic that you have.
Can you make £3,000 per month with only 30,000 PVs a month?
You bet!
Can you have 200,000 PVs and still only earn £500 a month?
Unfortunately, yes.
So, which factors can make the greatest impact on your traffic's money-making potential?
1. Know-how
Long story short, if you don't know how to blog as a business, it's totally possible that you're seeing high traffic and yet earning peanuts.
I know of bloggers who have hundreds of thousands of pageviews a month and still only make a few hundred pounds here or there. And that's not even regular.
However, if you have the know-how, you might just have 35k PVs a month and still earn a full-time income, easy.
So, in the end, it's not really the traffic that matters, it's how you use it.
2. Niche
Oh, niches. The first thing that stumps new bloggers and for good reason: they are as varied as the stars.
So, how does this impact the traffic you require in order for your blog to make money?
Well, if you're super-niched (think Super Bowl Snack Helmets), you might not have as much traffic as an evergreen site that talks about personal finance.
But, you might experience a higher ratio of conversions anyway because the people who go to your site are far more likely to buy a product because they're likely passionate (translation: engaged) visitors.
Want to know more about niches?
This training will go into it in more depth.
3. Your blog set up
Not every blog is created equal.
The way you set it up in the beginning can determine how much you can earn and indeed, whether you can effectively monetise your site in the future.
If you're a new blogger and you're drowning in a sea of information, you're probably about ready to tear your hair off.
We know the feeling.
So, take a deep breath and read this post, where we detail all the resources you could ever need to ensure that your blog is set up correctly for long-term financial success.
Once you have your site set up properly, you can start looking at factor #4.
4. Content and content set-up
Does your blog have a crystal clear focus?
Is your content well-researched, on-point and answers the readers questions?
Do you use the proper headings, sub-headings and paragraphs to break up your post into readable chunks?
Are your content, titles, and graphics designed to draw the reader in and get them to stay longer in your site (AKA low bounce rate)?
Do you understand what keywords are and are you applying them in your posts?
Are you taking advantage of available keyword research tools?
Did you make it easy for people to share your posts on social media by using a social media sharing plugin?
Remember, if your content is on-point and it's set up so the right people can find it, then it should be making money and you won't need millions of PVs for that.
5. Your monetisation strategy
How exactly do you plan on making money?
Writing excellent content is well and good but remember that every business needs to sell something in order to make money.
So, what's your game plan?
Are you running ads on your site?
Are you working with big brands via sponsored posts?
Are you opening up a membership site?
Do you have your own services or products?
Do you know what affiliate marketing is and are you combining it with your website (trust us, it's not too hard!)?
There are now many ways to monetise a website and even more ways to mix and match them.
You need to have a solid strategy with your blogging business if you really want to make a full-time income out of it.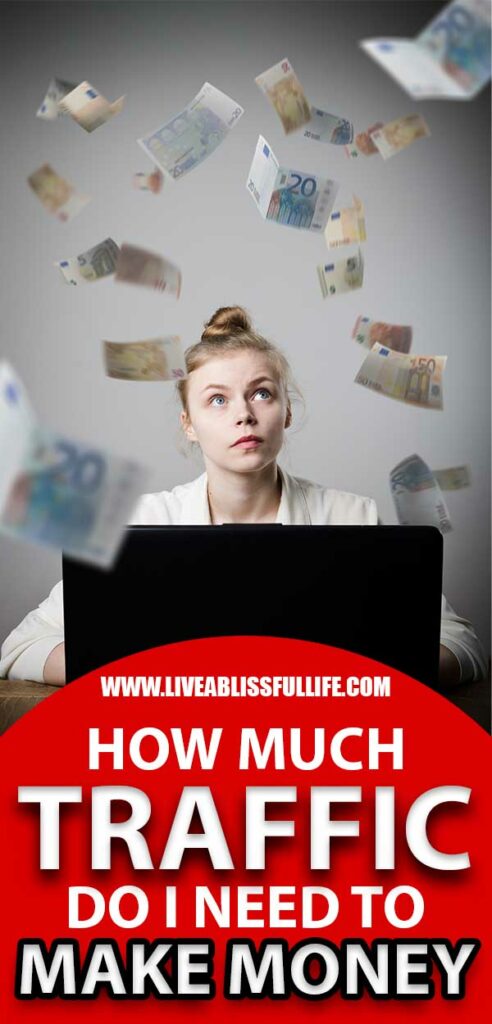 6. Demographics
Who are your readers and where are they based?
Some ad networks prefer to work with people who have a largely US audience so your application could be denied if, like us, your audience is international.
That means that you may not earn much from ads but hey, if you've got other forms of monetisation, then you might not even miss it.
Remember, some blogs don't bother with ads and they're generating a full-time income anyway so don't despair and look for another way.
Someone somewhere will say yes.
So, really, how many website views do I need to make money?
Now that you know that there many different ways to skin a fish, as they say, what can you do with this kind of information?
Well, obviously, this doesn't give you the number you're looking for, does it? And if you're like us, you probably need a number to aim for. After all, goals are important for overall success.
So, we'll let you in on our numbers.
Our main goal when we first started was 10k PVs a month because part of our monetisation strategy is working with an ad network and, as mentioned before, some ad networks have a 10K PVs per month threshold.
Since we've already breached that target, our next number is AdThrive's 100k PVs a month.
No sweat, right? Ha ha
Actually, quite a lot of hard work, effort and planning will go into this blog so we can achieve 100K PVs a month but hey, it's all worth it in the end.
Now, those are our numbers. Other bloggers naturally have their own.
The Busy Budgeter, for example, writes that "If you have more than 100,000 pageviews a month on your blog (total pageviews, not unique) you should be blogging full-time (i.e. earning more than $3,500/month from your blog)."
Whilst we don't have the research to back that claim, 100K PVs per month is a good enough number to aim for and, certainly, if you're part of an ad network like the three we mentioned earlier, you should be earning at least $1,500.
The rest will be a mix of the other monetisation strategies we've already discussed.
Final thoughts
We said this before but we'll say it again and again.
You need to set up your blog correctly for it to make money. Without the proper structure, your blog won't be able to generate the income you want. That means, more than anything, expanding your know-how so you're not just shooting in the dark and hoping something will stick.
You also need to have a solid plan in place. That means creating an editorial plan, a social media plan and a financial plan.
What are you going to write?
When are you going to publish it?
How often?
How will I monetise this post?
Hey, this is a business, remember? Businesses operate on a numbers game: we want more posts so we can have more traffic.
Another thing you'll want to have is support. You can get that from a lot of places but my favourite is Facebook Groups. All you have to do is type "your niche + group" (replace "your niche" with finance or mental health or whatever niche you're in) and get the ball rolling.
Our all-time fave is Sasha Lassey's Blogging Babes Collective, which offers unbeatable support for new bloggers.
I suggest checking that one out.
And of course, if you really want to make a name for yourself in the blogging world, you'll want to study affiliate marketing.
If you recall, it's one of the (best, imho) ways to monetise a blog.
But you need to do it judiciously. You can't just slap some links willy nilly and expect millions in the bank.
You'll need proper education and for that, you just can't beat Wealthy Affiliate (clue's in the name and all that, eh?).
They even have free training!
There you have it: our answer to the all-important question of "How much traffic do you need to make money?".
What about you?
Where are you now in your blogging journey and what numbers are you aiming for?
Leave them in the comments section below.
How many pageviews to make money with your blog?