In a hurry?
Yes, I'm one of those weird people. I buy myself Christmas presents. I go on dates with myself. Heck, I even go to the movies by myself (well, I used to anyway, pre-motherhood).
I'm a firm believer in taking care of number 1 (AKA you) so you can take care of the ones you love. Otherwise, you'll end up burning out and resentful because you're just plain exhausted.
So, what should I get myself for Christmas this year?
Side Note: If you're looking for tips on how to look after yourself on a daily basis (and why), check out these posts here and here.
Anyway, moral of the story, treat yourself to something special this Christmas. It doesn't have to be expensive but if you could afford it, then why not?
Many of us spend so much on other people, but we go years before we buy something really nice for ourselves.
This is especially true for parents, which is quite sad because parents especially need to keep looking after themselves so they can react with grace under pressure (trust me, you'll never look at pressure in quite the same way after you've engaged in a protracted discussion with your toddler as you try to get both of your to an important appointment in time).
Many of us spend so much on other people, but we go years before we buy something really nice for ourselves. #Christmas #ChristmasGift #selflove #selfcare
Click To Tweet
So, this post is all about you…and me. I'll share my Amazon Christmas list with you along with some of the things I already have but highly recommend so you can get ideas for gifts to buy yourself (on Amazon, of course, because who's got time to go schlepping around shops during the Christmas rush)?
I hope they help.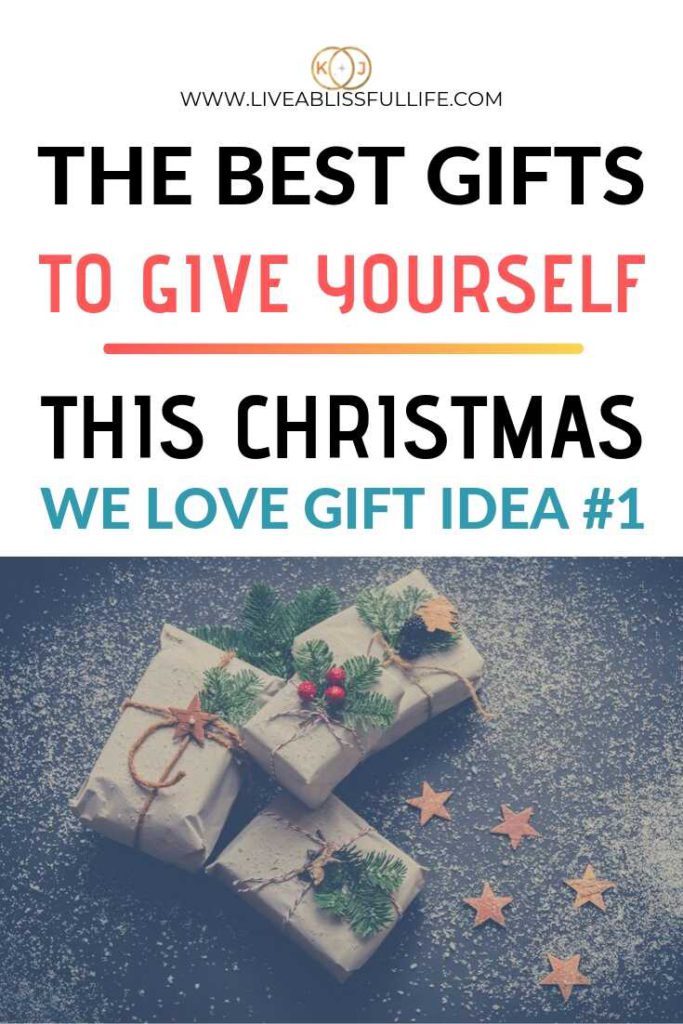 Expensive gifts to buy yourself
Let's start with some expensive gifts to buy yourself.
Now, I'm just going to qualify this statement to say that I consider anything over £50 expensive so no need to worry that you'll bankrupt yourself this Christmas on gifts for yourself alone. I'm not recommending that you splurge on Hermes products and incur massive debt.
A year of financial stress just because of Christmas gift-giving?
That wouldn't be particularly self-loving, will it?
Right there at the very top of my list is this gorgeous set of silk bed sheets.
This particular brand has been certified by Oeko-Tex, which ensures that the fabric and filling material was constructed without any use of harmful chemicals.
Why do I love silk so much?
If you don't already know, silk is a natural fiber that is hypoallergenic, which helps to eliminate allergies and asthma that other fabrics can cause (I'm looking at you, chemical-treated cotton and other synthetic fibers).
It also has natural temperature-regulating properties. It wicks moisture from the body and adjusts to body temperature, which is perfect if you're sleeping with someone else. In our case, Kevin and I get too cold at night whilst our wee one, who bedshares with us, gets too warm.
Silk bedding would be perfect for this.
Silk is also perfect for skin and hair care so an easy way to look good the next day.
All perfect wins for me.
Avoid: If you don't have time or the patience to look after the fabric. Silk is delicate and needs either handwashing or gentle washing on the machine. You need to use gentle detergent. Unlike other synthetic fibres, you can't just throw it in the machine and then dry after.
The Kindle Oasis is the ultimate splurge for book lovers who don't mind reading on a device.
It's waterproof so you can lounge about in the bath whilst indulging in a good read as I've been known to do. And the Kindle Unlimited Plan that's included means you'll have access to thousands of really good books across different genres for free.
Avoid: If you're the book lover described above who also don't like baths, beaches and anything where the Kindle Oasis may be useful.
Have you ever seen Tom Cruise's Minority Report with its impressive technology?
Well, the Fire TV Cube is equally impressive and I honestly marvel at the great minds behind these kinds of things. It's not available until 10 October so I haven't tested it myself but the write up is already making me giddy with excitement. This is definitely on my wishlist and would stay on my list even if I don't get it for myself this Christmas.
Avoid: If you don't like streaming, watch any shows or movies or have any smart tech in your home. Also, this is definitely not for you if you hate Alexa with a passion.
Once, a long time ago, I used to travel to Israel quite often and used Ahava exclusively.
My skin was perfect!
I cannot rave about this enough. You can buy this singly but since we're going for expensive gifts to buy yourself, the set is far more appropriate. Besides, the three products work synergistically anyway so it would really be better if you got all three of them.
Be warned.
Ahava is really a luxury brand so you might be shocked by the price (or not…it's certainly cheaper than La Mer, for example).
Avoid: If you can't justify the price, already have perfect skin or if you're allergic to the ingredients.
Christmas gifts for 50 pounds (or less)
Now, as we mentioned before, you don't need to get yourself in debt just to treat yourself to something special this Christmas. The best things in life don't always come with a jaw-dropping price tag. Take a look at my Christmas wish list below.
Christmas is usually winter weather, which means the drinking of hot beverages of all sorts – speciality coffee and tea, hot cocoa, egg nog and mulled wine to name a few.
Now that the wee one goes to nursery and I have to while away the time he's there somewhere close by (it takes 1.5 hours of walking in good weather to get from our house to the nursery and back), this would be perfect. I can save so much on buying a beverage and focus on the really important stuff, like brownies and scones. I write in a cafe close by and sometimes deliberate over what to buy. This would take the pressure off lol
Avoid: If you don't drink anything or if you already have one. Seriously, this particular product can actually hold both hot and cold drinks and keeps beverages hot for 10 hours and iced for 30 hours. I honestly can't think of any reason why anyone should avoid this unless you don't drink anything whilst out and about or if you already have one.
I already have this actually because I'm a book lover who can read a novel a day, despite marriage, motherhood and entrepreneurship taking up most of my day. Never mind the huge black bags under my eyes, this one is worth it if you have a Kindle device (or don't mind reading on their app, which I don't actually recommend due to eyestrain) and love reading eBooks.
Avoid: If you're the book lover who prefers the tactile experience of books in your hands – the smell, the feel, etc. Reading an eBook isn't nearly as therapeutic as curling up in a nice cosy corner with a mug of hot cocoa and a physical book in your hands. Not even close.
Technically, this is pricey for what it is but still way under $50 and totally worth it. Plus you can get it for 5% cheaper if you Subscribe and Save.
I can't quite explain just how instantly different your skin becomes after using this just one time.
It's like applying mud directly from the Dead Sea. Your skin is immediately transformed for the better.
Avoid: If you don't get on with the ingredients in this product.
One of the best ways to enjoy your Kindle and your Kindle Unlimited Plan is to carve some time for yourself and have a long luxurious bath.
In my extensive bathing experience, bath salts make all the difference in terms of relaxation so now we always have this to hand.
Combine this with any (Ahava) moisturising product and you end up feeling refreshed with skin as smooth as silk.
Highly recommend!
Avoid: If you tend to splash around in the bath. Bath salts will sting your eyes. And also, destroy your walls if you're using hygroscopic paint like Earthborn Claypaint. Ask us how we know. 😀
To recap
This Christmas, put yourself at the top of your Christmas list and look at Christmas guides to help you decide what gifts to buy yourself (on Amazon – because it's far more convenient than going to a physical store).
If you've never treated yourself to something special, this Christmas is the perfect time to start.
You can go all out and splurge on some big-ticket items, like the ones on my wishlist – if you have the funds.
But if you don't, it's perfectly alright.
You don't need to go into debt when buying presents for yourself. You just need to know the answer to the question, "What should I get myself for Christmas?".
Use my list as an example and go from there. I'm sure the things I have will generate some ideas for you.
If you already have a list, do post it in the comments section below. I'd love to take a peek at what will really make your Christmas this year. 🙂