One practical thing you can do to fast-track your way to a blissful home is to curate your belongings and declutter because chances are high that you have way too much stuff.
It's a bit hard to feel relaxed, cozy or blissful when you have mountains of items piled up everywhere (ask us how we know).
Learning how to declutter your home fast is not as hard as you probably imagine. Removing clutter is all about trying to get organised, figuring out what items you're not using anymore and making sure that you reorganise everything to bring in great results.
Of course it's simple. Is it easy?
Yeah, that's a whole 'nother story.
With that in mind, here are some great tips to help you get started.
What You'll Learn
FYI: This post most likely contains affiliate links. If you want to read our legal policies, click here.
Get some boxes ready.
Before we get started, we usually have three containers (boxes, some bin bags or anything else that can hold quite a bit of items) to hand. You will need one container for the stuff you want to keep, another for the items you want to get rid of and the final container for the stuff you want to store.
It's simple, efficient and works very well.
Figure out what's staying.
We believe that Marie Kondo is onto a great idea. She encourages people to put all items in the middle of the room and then you start analysing every item. You can put the items you want to use back where they belong, but the ones that you consider clutter you have to either prepare for donation or maybe even for the bin. It's a great system and one that works very well.
Make a pile.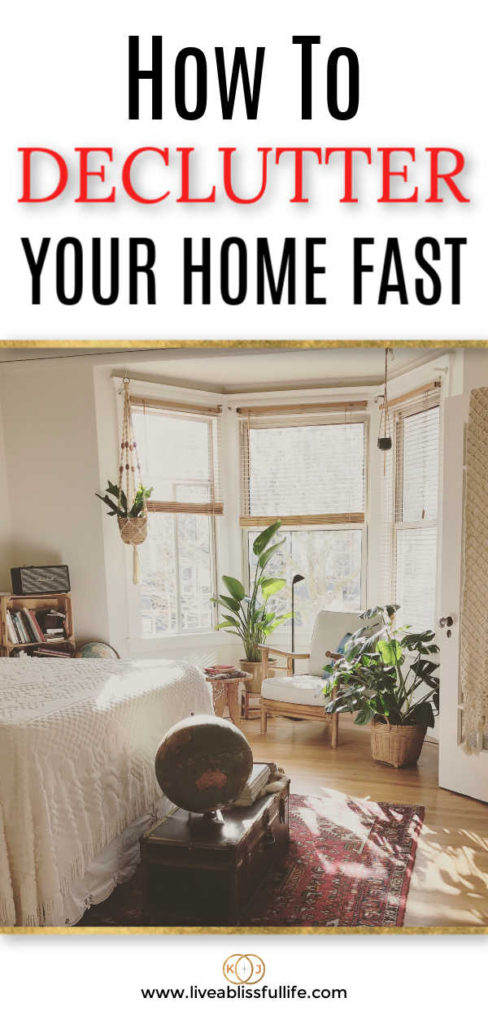 The KonMari Method recommends decluttering by category instead of room by room. You start with the easiest to discard and end with the most difficult.
✦ Clothing – most of us have waaaay too many. (JADE: I don't have a problem with decluttering my clothes but my son's? I can't seem to let them go.)
✦ Books
✦ Papers
✦ Miscellany
✦ Mementos
Let's use clothes as an example.
You take all of your clothes and put them in a pile on the bed. Better to do this in different rooms so you don't end up trying to dictate on your partner's process. You really want to avoid looking over at what your family member is doing and then start telling them which clothes they need to discard.
Ask questions.
Once you create a pile with all that clutter, you touch each item and ask yourself this question: does this item spark joy? If yes, definitely keep it. If not, then let it go – maybe to someone who can appreciate it better.
We won't delve into the controversy of her methods, only that for many people in general and for us in particular, the system does work.
In our case, we don't only ask if something sparks joy. We also think about whether or not we used something within the past year or so?
If yes and it truly does spark joy (AKA do we really truly love it, does it make us smile, does it feel us with that blissful feeling?), then the item stays.
If we haven't used the item but it actually does spark joy, then we examine why we don't use it as much as it clearly deserves to be used.
Finally, if an item doesn't fall in either of the above categories, if it's been sitting in your home for years without receiving any use, then this is the perfect time to get rid of them.
Pack for rotation, donation or the bin.
Simply place the items in their designated containers and be diligent.
If something is earmarked for donation, make sure to follow through and don't let it just sit in a garage. We've been there so yeah, we know how easy it is to conveniently forget that trip to the charity shop.
It is also very difficult for most people to get rid of perfectly useful items that don't spark joy. What of the money we spent on them?
It would be easy for us to sit here and tell you not to think that you're throwing money away.
If you've ever been strapped for cash or in debt, the money factor will most likely be at the forefront of your mind.
Instead of worrying about the money already spent and then feeling guilty that you can't seem to declutter "right" (as if there's a right or wrong way in this highly personalised process), take this chance to make some money too.
If you personally feel that you need the money more than the charity shops (we've been there so you're not going to hear any judgement from us), nothing is stopping you from earning money off your stuff.
This is an excellent way to make sure that you keep only those items that really make you happy, get rid of the guilty feeling that comes from knowing you spent so much money on what are actually useless stuff and earn a bit of money too.
Removing items that are there just for sentimental reasons is also a good idea, so keep that in mind.
Final tips and tricks
It's safe to say that learning how to declutter your home fast does take a bit of time and effort.
Sometimes, it can be very overwhelming to organise too much stuff at the same time, which is what it would seem if you put everything in a pile in the middle of the room.
If this happens to you, there is an alternative.
Instead of piling everything up, take on a single drawer at a time and remove all the unwanted items from it – just make sure they're all under the one category.
If you have too many trousers, for example, then you have the option of first decluttering just one drawer full of trousers first, get everything in there sorted into different categories before moving on to the next drawer.
Take baby steps if you get overwhelmed but keep the end goal in mind: a blissful home filled with love and joy.
The process can be difficult but the result is definitely worth it.
If you have any extra trips and tricks for fast-tracking the declutter process, just pop in your experiences in the comments section below.
We'd love to hear from you.